Elizabeth Walker Morris, birthdate unknown, probably came from England but no records of her exist until she married Owen Morris as his second wife. [1] Morris's first wife had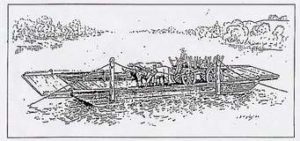 drowned in a ferry accident.[2]
The first known performance of Mrs. Morris in the Colonies occurred at the Southwark Theatre in Philadelphia in 1772. In that same year, she also appeared with the Old American Company in Charleston and in New York. During the Revolutionary War, she traveled with the Old American Company to the West Indies and then came back to New York in 1785. [3]
After various disagreements with other members of the company in New York, Mr. and Mrs. Morris left in 1792 with Thomas Wignell to form a new theatre company in Philadelphia.  Both Mr. and Mrs. Morris found adversaries in the New York Company: as
Odell observes, "Mrs. Henry had been the obstacle to Mrs. Morris's happiness, and Henry had blocked Wignell from adoption into the family of managers."[4] Similarly, Ireland notes, "the ladies were jealous of each other, and Wignell had always been the champion of Mrs. Morris."[5]  Ireland concurs: "Mrs. Henry although fitful and capricious, had a become a formidable rival to Mrs. Morris, who was probably anxious for a separate sphere of action."[6]
Before the Chestnut Street Theatre in Philadelphia was completed, "the Morrises in 1792 engaged in "the first theatrical season ever known at Boston."  After several weeks, the season was halted by the Sheriff who arrested both Mr. and Mrs. Morris as they performed the roles of Sir Peter and Lady Teazle A School for Scandal.[7] After Chestnut Street opened, the Morrises associated with that theatre from 1794 till 1810, "the year after her husband's death."
Mrs. Morris inspired some effusive reviews over the years; The Pennsylvania Biographical Dictionary describes Mrs. Morris as "the greatest attraction on the American stage" just after the Revolution, "especially in high comedy roles," and suggests that she was effective partially due to "her tall and elegant figure and her spirited acting in the grand manner."[8]  Dunlap commented, that Mrs. Morris was "the representative of the lively comedy lady. . . ." He describes Elizabeth as "tall and elegant" and observes that acting was "very spirited." [9]  Wingate, in Shakespeare's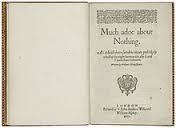 Heroines of the Stage, credits Elizabeth as "the very first Beatrice in America;" she performed the role in Much Ado About Nothing on March 18, 1789 in Philadelphia opposite Mr. Hallam.[10]
William Wood observes, "Mrs. Morris, I am well convinced, was generally considered the greatest

object of attraction in the company. This she owed, perhaps, to a tall, imposing, well-formed person, and a very mysterious manner."[11]  Mrs. Morris's departure from New York left a weaker company, as "neither Miss Tuke nor Mrs. Hamilton, Mrs. Rankin nor Mrs. Gray, could hope to succeed Mrs. Morris."[12]
Although theatre historians praise Elizabeth. Morris's performances, many also note her odd behavior off the stage.  Apparently she disliked being seen by the public outside of the theatre. As William Wood comments,
The mysterious manner alluded to in Mrs. Morris was not confined to the stage, but the chariness of her exposure to the vulgar eye of day was very amusing.  So inveterate was her dislike to being seen in daylight, that Mr. Morris obtained from a near relative of mine permission to put up a little gate in his garden, by which Mrs. M. could pass from her lodgings in Maiden Lane direct to the theatre, without a circuit of Broadway.[13]
Critics also ridiculed Mrs. Morris's affection for high heeled shoes: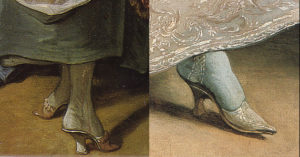 . . . the walk of half a dozen miles, which the less artificial actors of modern times sometimes bodily execute, between the rehearsal and dinner, would have puzzled Mrs. Morris not a little, from the fact of her indulging, among other peculiarities of dress, in a air of heels of such dangerous altitudes as required the utmost caution in her locomotion.[14]
Despite Mrs. Morris's long-standing popularity, not all critics believed her an accomplished actress. William Wood, manager of the Chestnut Street Theatre, records,
At a later period I become more and more satisfied that she had been greatly overvalued; her enunciation was wretchedly imperfect, and her education still worse. She was one of the numerous fortunate instances of mere personal attraction being accepted as a substitute for more important mental qualifications. Her first performances must have been smart farce characters, and second class comedy. . . .  From the earliest period I can also recollect the apparent want of a retentive memory in this lady, and her frequent dependence on the prompter in characters she must have acted hundreds of times.[15]
Despite Wood's dismissal of her abilities, Elizabeth Morris enjoyed  a successful career on the American stage. As Francis Wemyss, a contemporary of the actress, testifies, Elizabeth
[Elizabeth]. . .was the Fine Lady of the Company, a tall elegant woman, much admired as an Actress; retired from the stage after a long career of success, and died in 1824 or 1825 at Philadelphia, Pennsylvania."[16]
An article entitled "Notable Graves in Philadelphia, reports that "in old St. Peter's Episcopal churchyard we find the grave of Owen Morris, who died in Philadelphia in 1809. His wife is also buried there."[17]  An equally perfunctory description appeared in Elizabeth's obituary: "formerly an eminent actress."[18]
Her tombstone in old St. Peter's Episcopal churchyard makes no mention of her profession:
To the Memory of
MRS. ELIZABETH MORRIS
who died April 17th 1826
Aged 85 years

Great God! I own thy sentence just
And nature must decay
I yield my body to the dust
To dwell with fellow clay.[19]
[1] Jan Onofrio, Pennsylvania Biographical Dictionary. St. Clair Shores:  Somerset Publishers, 1999, 189.
[2] George Seilhamer. History of the American Theatre. Vol II. Philadelphia: Globe Printing House 1888; reprint New York: Greenwood Press, 1968, 351.
[3] Onofrio, 189.
[4] George C.D. Odell. Annals of the New York Stage.  Vol. I. New York: Columbia University Press, 1927, I, 293.
[5] Joseph Ireland. Records of the New York Stage. New York 1866; reprint New York: Benjamin Blom, 1966.
[6] Ibid, 183.
[7] Onofrio, 190.
[8] Ibid.
[9] Dunlap, History of the American Theatre., 1832; reprint New York: Burt Frankln, 1963; Vol. I,  151, 157.
[10] Wingate, 51.
[11] William Burke Wood. Personal Recollections of the Stage. Philadelphia:  H.C. Baird, 1855: 26.
[12] Seilhamer, II, 340.
[13] Wood, 26.
[14] Ibid.
[15] Wood, 26.
[16] Francis Wemyss, Chronology of the American Stage. New York: William Taylor and Co., 1842, 94.
[17] "Notable Graves in Philadelphia."
[18] Ofofino, 190.
[19] Dawn-Marie Williams, Find-a-Grave.org. Verse from Christian hymn "Great God, I Own Thy Sentence Just" by Isaac Watts and Johann Cruger;