Theatre patrons in the Fall of 1792 welcomed one of the most famous performers ever to arrive in America, Mrs. Hugh Pownall, the former Mrs. Wrighten:
Friday last arrived the Ship Betsey, Captain Mefnard, in 37 days from London; this ship brought no later intelligence than was received via Philadelphia. In the Betsey came passengers Mr. and Mrs. Pownall and two children, Mrs. Marshall, John Henry, Esq., Manager of the Old American Company of Commedians[1]
Joseph Ireland relates that the performers arrived in America early in the fall of 1792 "and immediately proceeded to Philadelphia, whence, after a triumphant season of nearly four months, they were brought to New York for the opening of the John Street Theatre on the 28th of January 1793."[2]
Described as the "best comic singing actress of the day," Mrs. Wrighten had performed several seasons at Drury Lane and was "a regular fixture" at Vauxhall Garden from 1777 to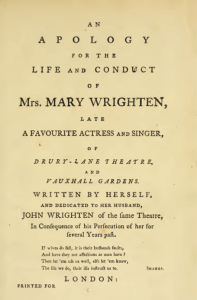 1786.[3] She left Vauxhall in 1786, and for several years, was vilified in the press; her estrangement from her husband and her flight with another man inspired some reaction in London, enough that Mrs. Wrighten was prompted to write An Apology for the Life and Conduct of Mrs. Mary Wrighten shortly before she came to the United States as Mrs. Hugh Pownall. Newspapers in the United States apparently did not comment on the Apology.
Soon after her debut in New York, Mary Ann Pownall broke her leg and was unable to perform for months. She also confronted a rival in the New York company, Frances Brett Hodgkinson, young wife on the actor/manager John Hodgkinson. Joseph Ireland, theatre historian contends that Mrs. Wrighten Pownall, though talented, could not supplant the younger woman:
[She] was the best vocalist yet heard in America, and had she been twenty years younger would have eclipsed Mrs. Hodgkinson in the estimation of the public, as it was she fully divided its favor.[4]
Mrs. Pownall's marital woes did not inspire much comment in the newspapers of the United States. In the notice of her first performance in 1792, citizens were advised only of her celebrity:
Last Tuesday evening, the 16th inst., the celebrated and highly admired Mrs. Pownall (formerly Mrs. Wrighten) made her first appearance on the American Stage, at the theatre in Southwark, in the character of Patty, in the Maid of the Mill. This lady for any years performed at the different theatres royal in London; and always with unbounded applause. She is one of the finest singers Europe can boast of. Her manner is, in a singular degree, graceful; and in every respect it may, without exaggeration, be said that she is a most accomplished and excellent performer.[5]
Mrs. Pownall often performed in concerts in the summer months; she appeared in Boston during July of 1794, and a local newspaper rhapsodized about her upcoming performance:
 . . .her celebrity, on the boards of the Continent, has as far outstripped the emulation of her Sister performers, and surpassed the eulogiums of her panegyrists, as her merit has exceeded the most sanguine expectations. . .[6] .
A notice in the Federal Orrey of December 08, 1794, announced
The Drama of the Boston Theatre will be elegantly filled, the ensuring season, in its vocal department. The most generous terms have been offered the incomparable MRS. POWNALL to charm us again with her delightful notes.7]
Mrs. Pownall was still with the New York theatre as of May 16, 1795, when she sang "Comme Un Éclair" after a performance of The Carmelite.[8] By October 13, 1795, she was in Boston and advertised as performing with her son and daughters: "The wonderful powers of her son, and the pleasing melody of her daughters united to her own science and astonishing execution, form a rare union of vocal attraction."[9] The review of the performance commented that Mrs. Pownall's "knowledge of the stage was fully equal to the otherwise incomparable powers of her voice," and also praised her daughters' duet from The Haunted Tower.[10]"
Throughout her brief career in the United States, Mrs. Wrighten Pownall not only performed music, she also composed it. She is credited with many songs including "Jemmy of the Glen," "The Primrose Girl," "Kisses Sued For," "Kiss Me Now or Never," and others.
Shortly after the concerts in Boston, Mrs. Pownall joined the Charleston theatre company. An article in The Daily Advertiser of October 29, 1795 listed "comedians" who were going to Charleston from "our late Boston dramatic establishment." As a testament to their prominence, Mrs. Pownall and the two Miss Wrightens were at the top of the list with a salary of "64 dollars." The next highest salary was assigned to Mr. and Mrs. Jones, who received 50 dollars.[11]
Mrs. Pownall was to sing a concert on August 6th, after which she and her family were expected to return to England.[12] However, on August 2, 1796, Mrs. Wrighten suffered the first of several tragedies. Her daughter, Charlotte Sophia Wrighten married theatre manager Alexander Placide, who had lived for some time with a woman whom many believed was his wife. The marriage evidently was sudden, unexpected, and unwelcome. Mrs. Wrighten posted a notice on August 2nd in The South Carolina State Gazette and Timothy and Mason's Daily Advertiser that she would be unable to perform in the August 6th concert because of "an unnatural change in her family."[13]
At this same time, Yellow Fever struck the family. St. Philip's register records that Felix Pownall, aged four, son of Mary Ann Pownall, was buried on August 10, 1796 and then the actress herself, listed as "Mary Ann Pownall (formerly Mrs. Wrighten)" was buried at St. Philips's on August 12, 1796.[14] According to contemporary accounts, Mary Wrighten, daughter of Mary Ann, died twelve days after her mother. One year later, in July 1797, another burial was recorded in the St. Philip's registry, that of "Child" of Mary Ann and Hugh Pownall, presumably the one-year old girl, Louisa Delia.[15] In Stranger in America, Charles William Jansen comments that the number of performers who died in Charlestonwas startling: "From this mortality, the American stage is at present somewhat de- preciated [sic] and it is not to be expected that England can spare a supply of such performers as have been last named, with the celerity with which a Carolina climate may carry them off."[16]
Mary Ann Wrighten Pownall, although enjoying only four years on the American stage before her death from Yellow Fever, nevertheless won the hearts of theatrical patrons in New York, Boston, and Charleston. In January of 1796, an "extempore ADDRESS to Mrs. Pownall, by a Young Gentleman of this City" appeared in a Charleston newspaper:
TO thee, Sweet Warbler, all-wise and bounteous heav'n,

The power to please has generously giv'n,

To raise the smile, to charm the list'ning ear;

To cause the sigh, or start the gushing tear;

To rouse th' insensible, from a torpid state

To admiration, and their hearts elate;

'To wake the soul' by each melodious strain,

And o'er proud man triumphant pow'r to gain,

Belongs to thee, whose matchless voice

Has fix'd thee justly in our choice.

On thee, those must their just applause bestow,

Who all thy great and wond'rous

powers know.
 NOTES
[1] The Diary, or Loudon's Register. New York: 1 October, 1792.
[2] Joseph Ireland, Records of the New York Stage, Vol. I (New York: 1866; reprint New York: Benjamin Blom, 1966) 94.
[3] Philip Highfill, A Biographical dictionary of Actors, Actresses, Musicians,Dancers, Managers & Other Stage Personnel in London, 1660-1800, 290.
[4]Ireland, 98.
[5] Baltimore Evening Post, The, 20 October, 1792.
[6] Columbian Centinel, 19 July, 1794.
[7] Federal Orrery, 8 December, 1794.
[8] The Weekly Museum, 16 May 1795.
[9] Federal Orrery, 12 October, 1795.
[10] The Massachusetts Mercury, 16 October, 1795.
[11] Daily Advertiser, Boston, 29 October, 1795
[12] Eola Willis, The Charleston Stage In the XVIII Century. New York: Benjamin Blom, 1968, 336.
[13] Original notice in the South Carolina State Gazette and Timothy and Mason's Daily Advertiser, August 3(?), as quoted in Eola Willis' The Charleston Stage In the XVIII Century. New York: Benjamin Blom, 1968.
[14] Register St. Philip's Paris, Charles Town [sic] 1754-1810. Columbia, SC: University of South Carolina Press, 1971, 356.
[15] Ibid.
[16] Jansen, 292 (electronic version).