(1771- June 18, 1830)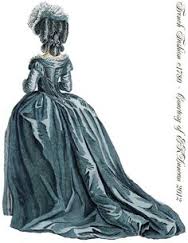 Elizabeth Ford, born in 1771, was acting at the Theatre Royal in Norwich in 1790, according to A Biographical Dictionary.  She married John Johnson a year later; as William Dunlap records in his History of the American Theatre, "she prudently accepted the hand of Mr. Johnson, much her senior, but one who could protect and instruct her."[1]
Elizabeth performed in Bath and Bristol in 1793 and 1794. In 1795, she and her husband were recruited by John Hodgkinson for his American Company, and they debuted at Federal Street Theatre in Boston on Nov. 5, 1795 in The Provok'd Husband.[2]
Ireland describes Elizabeth as the "daughter of Major Ford of the British army, and had been, as she was again a few years later, a successful actress at Covent Garden."  Elizabeth's height and mannerisms were striking, as indicated by descriptions of her appearance:
Tall and elegant in her person, refined in her manners, highly cultivated in her mind, exquisitely  tasteful in costume and with a singular ease and gracefulness of carriage, she particularly excelled in the delineation of the fashionable, high bred lady; yet her tragic merit was so great that was not unfrequently styled the Siddons of America.[3]
Listed as one of the "foremost" recruits of 1796—and described as "one of the best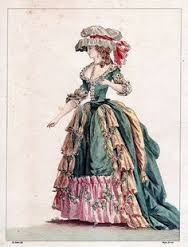 leading ladies any stock company in America has yet boasted,"– Dunlap, too, admired Mrs. Johnson's appearance and bearing:
 Mrs. Johnson was a tall, elegant, beautiful young woman, whose taste in dress made her a model for the belles of the city, and whose manners were as fascinating off as on the stage. Her irreproachable character and demeanour rendered her playfulness harmless to herself or others; for the most licentious would see at a glance that he must not approach, in that character, within the circle of her influence. She was almost too tall, yet the spectator did not wish her shorter, and if any movement appeared like an approach to awkwardness, it was only to be attributed to modesty. . .and at the time we now speak of, America had not seen so perfect a fine lady in comedy.[4]
In John Hodgkinson's Narrative of his Connection with the Old American Company, he refers to the rivalry between Elizabeth Johnson and Eliza Hallam. Hodgkinson relates that Mr. Hallam, co-manager, recognizing  the harmful effects of his wife's continued intoxication and indecorous behavior during performances,  instructed Hodgkinson to "procure an Actress in her Place from England." Accordingly, Hodgkinson engaged Mrs. Elizabeth Johnson, who arrived on October 1, 1795.[5] However, because of the epidemic that afflicted New York in the Autumn of 1795, the company relocated to Boston, subsequently, her first appearance on the American stage occurred in that city in November; she depicted Lady Townly in The Provok'd Husband.  A review of her performance, reprinted in a Baltimore newspaper, was effusive in its praise:
". . .her courtly address and graceful gestures, exhibited the Fine Lady in a striking point of light; her figure so elegant, she literally towers above her sex; her countenance is the seat of that feminine softness, which is essential to female beauty; her eye, that mirror of the soul in astonishing vicissitudes, displayed the sullen fixedness of contempt, the flashing fire of rage, the tremulous motion of shame, the leaden heaviness of grief, the timid glance of doubt, the brightening beam of hope, and the sparkling lustre of joy.[6]
While at Boston, Elizabeth performed various roles, mostly depicting a "Fine Lady," described as a character that exhibited unquestioned gentility in walk, attitude, dress, and enunciation.[7]  Her roles included Lady Townley in The Provok'd Husband, Lady Teazle in The School for Scandal,  Emily Tempest in The Wheel of Fortune, Lady Alford in The Children in the Wood, and others..
Throughout the year 1796, the Johnsons traveled extensively.  They performed in New York in February of 1796, in Hartford CT in August,  in New York in September, in Boston in November, and in New York again by December 26, 1796.
Unfortunately, both Mrs. Johnson and Mrs. Hallam competed for the same line of characters; as Hodgkinson relates, he had brought Mrs. Johnson to the United States to replace Mrs. Hallam in the company, only to find that Mrs. Hallam still ensconced as a leading actress. Hodgkinson observed,
"I stood highly implicated to Mrs. Johnson who had come three thousand miles to supply a Line of Characters Mr. Hallam's Insincerity would deprive her of."[8]
William Dunlap records that although Mrs. Johnson apparently was unhappy with the situation; however,  in his June 4th  1797 entry,  he relates that the Johnsons and Hodgkinsons "all expect that her (Mrs. Hallam's) habitual intemperance will disgust the public & Mrs. Johnson thinks that her popularity will be encreased [sic] by being contrasted with Mrs. Hallam."[9]
The rivalry between Mrs. Johnson and Mrs. Hallam did not abate; in his diary entry of   Nov. 21st 1797, Dunlap notes, "Mrs. Johnson seems averse to appearing in NY again, she resents Mrs. Hallam's being call'd for."[10]
In Spring of 1798, the Johnsons asserted that they were considering returning to England; and Dunlap visited them to determine their plans:
May 23rd, 1798 – Call on Johnson & his wife, their talk was all of going, she appeared low spirited. I profess'd my sorrow for their determination; she at length asked me to write a few farewell lines—she choked & burst  into tears. I sat down nearer to them and with some preface offerred [sic] in case they would stay $45 per week. . . . . [12]
Despite these negotiations, in the summer of 1798, the Johnsons returned to England. The Daily Advertiser of New York reported:
Mr. and Mrs. Johnson, late of the Boston and New-York theatres have arrived safe in the Downs after a passage of 27 days. They sailed from New York June 3rd. . .they are engaged for the Covent Garden Theatre, and will make their first appearance there, this winter. In their departure the America drama has sustained an irreparable loss.[13]
In Fall of 1802, Elizabeth and husband returned to the Park Theatre in New York, under the management of William Dunlap.  They spent four years in the United States and then returned to England.  Elizabeth came back to the United States in the autumn of 1817 and portrayed Lady Randolph in Douglas on December 2 at Park. A Biographical Dictionary reports that Elizabeth's adult daughter Ellen [sic] Augusta Johnson debuted at Park in Jan. 1817 and soon became a popular actress in her own right.  She and her mother appeared together in Elizabeth's last performance in April of 1817:  Evelina in The Castle Spectre.[14] Elizabeth Johnson died at Whitestone, Long Island, NY on 16 June 1830 at age 59.[15]
The New York Evening Post, Saturday, June 19, 1830, offered the following perfunctory announcement:
Friday, Mrs. Elizabeth Johnson, relict of J. Johnson, formerly Manager of the Theatre. Son-in-law Thomas Hilson. 190 Elm Street.[16]
New York, Wills and Probate Records 1659-1999  indicate that a "Petition for Letters of Administration," filed on June 26, 1830  appointed Thomas Hilson "administrator of the Goods, Chattels, and Credits of Elizabeth Johnson"   According to these records,  the "deponent" Hilson  swore that Elizabeth's estate "did not exceed in value the sum of fifteen hundred dollars," and that she left her "surviving Eleanor August Hilson, the wife of Thomas Hilson, the only next of kin entitled to her Estate."[17]
Elizabeth was interred at St. John's Cemetery in New York City, apparently the cemetery  that was razed at the end of the nineteenth century to create the James J. Walker park. However, the Harvard Theatre Collection holds an engraving of her tombstone, which reads:
Sacred to the memory of Elizabeth Johnson, who died June 18, 1830 aged 59 years[18]

Also

Two infant children of Thomas and Eleanor Agusta [sic] Hillson

Also

Mrs. Eleanor Hillson

Born Nov. 12 1800

Died April 2 1851
NOTES
[1] William Dunlap. History of the American Theatre. New York: Burt Franklin, 1963: 281.
[2] Philip H. Highfill, Philip H., Kalman A. Burnim, and Edward A. Langhans. A Biographical Dictionary of
Actors, Actresses, Musicians, Dancers, Managers & Other Stage Personnel in London,
1660-1800.Carbondale: Southern Illinois University Press, 1973. Print, 178.
[3] Joseph Ireland. Records of the New York Stage. I, 130.
[4] Dunlap, History, I, 280.
[5] John Hodgkinson. A Narrative of his Connection with the Old American Company. New York: J. Oram, 1797; 11.
[6] Federal Intelligencer and Baltimore Daily Gazette, 19 November 1795.
[7] Thomas Holcroft. The Theatrical Recorder. Vol. 1. London:  C. Mercier, 1805. Google Books; 66.
[8] Hodgkinson, 11.
[9]William Dunlap, Diary of William Dunlap. New York: Benjamin Blom, 1788, 59.
[10] Dunlap, Diary, 171-2.
[11] Dunlap, Diary, 237.
[12] Ibid, 260.
[13] The Daily Advertiser, 14 September 1798.
[14] Highfill, et al., "Johnson," Vol. 8, 180.
[15] Ibid.
[16] The New York Evening Post, 19 June 1830.
[17] New York Wills and Probate Records, 1659-1999. Ancestry.com.
[18] Highfill, et al, Vol. 8,  180. The date of death offered in A Biographical Dictionary differs from that engraved on the tombstone. Another account of the tombstone in the New York Times, 30 August 1874, lists "Mrs. Hilson's" death as occurring on April 2, 1837, and lists her age as 36 years, four months, and twenty-one days."